What Is It like to Stay in a Serviced Coliving Space?
In essence, serviced coliving represents a space that brings people to interact with each other with regular cleaning services, fully furnished units, and with additional facilities and perks here and there. There's a place for everyone to colive with tenants ranging from French expats working in Fintech to university researchers from Singapore.
Now, you probably already know  about the types of people who choose to stay in a coliving space, but what are they up to? There is no doubt that you save time due to shorter commutes if you live in the city center and don't have to do run any household-related errands, so here's everything you need to know about living in a serviced coliving space.
Please note, our real unit at Dash Coliving Argyle was taken as a reference for the article 🙂
Housekeeping
Life is much more comfortable with housekeeping. Gone are the days when you had to wash and change your bedsheets and towels. Imagine how much time you can spend with your friends or practicing your new hobby. You can also leave your units for longer periods of time without having to worry or rush to come back to do the chores.
Cook at Home
Imagine having your own bedroom with a private kitchen space with all equipment to cook dinner? Yes, that means a stove, fridge, microwave along with proper cookware to get the job done. 
Location, Location, Location
You know the importance of choosing the right neighborhood if you've lived in Hong Kong long enough. Let's face it: It's great to live close to the MTR station, shopping malls, supermarkets… and everything you need to get the most out of city living. Our latest coliving space, Dash Coliving Argyle is a one-minute walk from Mong Kok MTR and within a stone's throw to the eatery, supermarket, gym, bank & cinema.
That Million Dollar View
Dream of waking up to these scenic views every morning? The floor-to-ceiling windows allow for gorgeous scenic views of Kowloon, Hong Kong.

Perks! Perks! Perks! Everybody!
Serviced coliving with #dashliving comes with more than 40 perks, including wine discounts with Puchang wine, a free gym pass at VO2, and a coworking pass at Compass Office and much more. 
Me Time Anytime
Me time is important for a healthy social life. We all have those days where we need a bit of downtime. Our one-bedroom coliving units at include a fully furnished living room in selected units for you to get  have some peace and quiet.
Food & Fiction
What's your favorite snack to eat while reading? Ours is popcorn and potato chips. Feel free to share your snacks with your neighbors or indulge in your favorite during your reading time/comic time. Our units include a space for you to chill in the living room all day every day.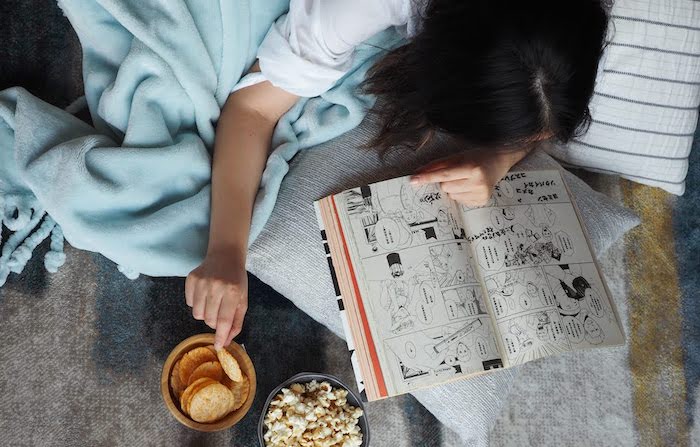 Whether you're in Hong Kong long or short term, serviced coliving promises a community feel with all the benefits of a serviced apartment. Keen to try it out? Check out Dash Coliving here.
Extended Stories
Read more about tenant experiences and life hacks that empower the #dashliving serviced living community.